"Revealing how life works"
Welcome! Our hope is that you will be able to find what you want to know about our Department within these pages. If not, please do not hesitate to contact us!
Our mission in Biochemistry & Biophysics is:
to carry out significant original research that reveals the molecular mechanisms underlying life of all varieties and that provides excellent training for undergraduate students, graduate students, and post-doctoral fellows;
to provide excellent classroom and laboratory training of both major and non-major undergraduate students at Oregon State University and in so doing prepare them for success in their chosen careers and in life.
In carrying out our mission, Biochemistry & Biophysics is home to about 160 undergraduate majors and 25 graduate students. We grant BS, MS and PhD degrees. Our faculty oversee research funded by grants and contracts of nearly $4 million annually. Our undergrads are among the best at OSU, as 8 out of the 12 Goldwater Scholars at OSU since 2004 have been BB majors.
NEWS AND EVENTS:

Congratulations to BB senior Corinne Fargo, who won the OSU Women's Center Student Leader Award, out of the many undergraduates nominated from across campus.
Corinne was chosen for her outstanding achievements in scholarship, leadership and service. An Honors student, Corinne has carried out research on gene silencing in fungi, been a TA for numerous courses and serves as both the President of SDO, OSU's science sorority, and as an officer in the Mortar Board Senior Honor society.
Karplus receives top honor as OSU Distinguished Professor
The College of Science congratulates Andrew Karplus who was named a 2015 OSU Distinguished Professor, the highest designation the university gives to its faculty. Karplus has been a professor in the Department of Biochemistry and Biophysics in the College of Science since 1998.
Karplus joins a long-standing tradition of faculty excellence in the College of Science. With 18 Distinguished Professors, the College has the most of any other college on campus. Most recently in 2013, Joseph Beckman, director of the Environmental Health Sciences Center and the Ava Helen Pauling Chair in the Linus Pauling Institute, was named a Distinguished Professor.
Jon Lewis, a professor in the College of Liberal Arts, was also named an OSU 2015 Distinguished Professor.
The title Distinguished Professor is given to OSU faculty members who have achieved national and/or international stature resulting from their contributions to scholarship/creative activity, research, education, and service, and whose work has been notably influential in their field. They will carry the title as long as they are actively engaged as faculty members at Oregon State.
"I am extremely proud of Andy Karplus. He is an extraordinary scientist and researcher as well as an outstanding teacher, mentor and colleague, " said College of Science Dean Sastry G. Pantula. "Andy joins an elite group of distinguished professors in our college who have an impeccable impact on future discoveries, leaders, policies, and technologies. We are proud to recognize research and teaching excellence of our faculty in science."
Karplus has earned a reputation as one of the best structural biologists in the world – a description cited in his selection as a fellow of the American Association for the Advancement of Science (AAAS) in 2014. His research, which focuses on enzyme catalysis, protein evolution and structure, and crystallography, has been cited more than 15,000 times by other scientists.
Known for his high standards in teaching, Karplus consistently garners top ratings from student evaluators. Karplus teaches a range of courses, from core offerings in the Department of Biochemistry and Biophysics to a course on protein evolution, his department's most influential advanced elective.
Karplus has received high praise for his work as an academic adviser, research mentor and collaborator. He has had a profound impact in his field, publishing more than 130 papers in premier journals and annually delivering several seminars and talks at meetings. Colleagues describe him as an innovative, rigorous and award-winning teacher, whose accomplishments are accentuated by the highly successful students he has mentored. He also has an extensive service record including service on the Faculty Senate Executive Committee and, as past department chair.
Karplus has garnered top awards, including an AAAS Fellow in 2014, three Alexander von Humboldt Fellowships, a Guggenheim Fellowship, a National Research Service Award from the National Institutes of Health, the American Chemical Society Pfizer Award in Enzyme Chemistry, the OSU Milton Harris Award for Basic Research, the OSU Sigma Xi Researcher of the Year, the OSU College of Science F.A. Gilfillan Memorial Award for Distinguished Scholarship in Science, and the Oregon Medical Research Foundation Discovery Award.
As part of the award, Karplus will give will give a public lecture on campus May 21.
Andy Karplus Elected As One Of The 2014 Fellows To The American Association For The Advancement of Science
Congratulations to OSU BB Professor Andy Karplus! Professor Karplus, Vincent Remco, and Valerian Dolja were elected 2014 Fellows to the American Association for the Advancement of Science (AAAS), the world's largest scientific society. http://www.science.oregonstate.edu/three-researchers-elected-world's-largest-scientific-society
Ebola 2014: Medical & Ethical Issues by Pat Iverson
On Monday, November 3, 2014, Dr. Pat Iverson gave a seminar on the biochemistry, infectivity, and spread of Ebola virus. Pat holds a joint appointment as a Professor in the Department of Environmental and Molecular Toxicology and Department of Biochemistry and Biophysics.
For those who could not make it to the evening seminar, Kevin Ahern videotaped Pat's presentation and posted it on youtube.
https://www.youtube.com/watch?v=Nd4gSMDCG5U
Congratulations to first year BB grad student Rachael Kuintzle for winning the graduate student poster prize at this years Fall CGRB Conference!
The CGRB would like to thank everyone who presented a poster at the CGRB 2014 Fall Conference.


•Graduate student: Rachael C. Kuintzle, title: RNA-Seq Reveals Age-Induced Changes in Rhythmicity in Drosophila Transcriptome





On Saturday September 6th, 23 of our BB students, faculty, friends and family enjoyed hiking along the beautiful Metolious River and visiting the Wizard Falls Fish Hatchery. This group picture was taken at the Headwaters of the Metolious, where the river emerges year-round pretty much full size out of the dry ground.
OSU President Ed Ray takes the ALS ice bucket challenge, Beckman & Ray speak about understanding ALS.
"Joe Beckman at the Linus Pauling Institute is working on finding appropriate treatments and hopefully one day a cure for ALS." - OSU President Ed Ray
Read the full article & watch Ed Ray's ice bucket video here.
Undergraduate Student Taylor Bundy Does The ALS Ice Bucket Challenge (Indoors!)
Kevin Ahern featured in Gazette Times: "OSU professor keeps the puns flowing with limericks"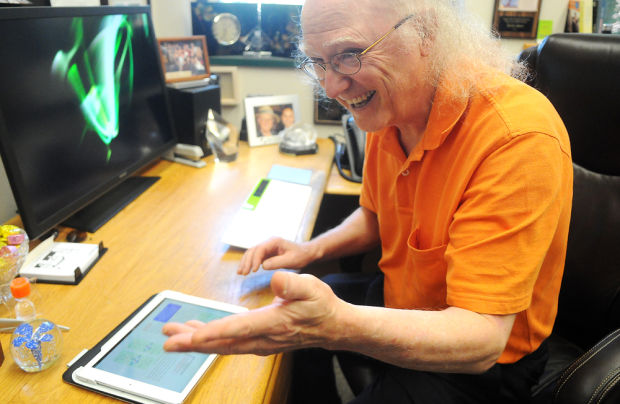 Some people make vows to exercise daily. Or work on their novel. Or play the violin.
Oregon State University biochemistry and biophysics Professor Kevin Ahern, meanwhile, has been writing a limerick a day for going on three years.
And not just any kind of limerick. They have to include a pun in the final line. Ahern recently self-published his third book of limericks, "Kevin Ahern's 1001 Punniest Limericks."
OSU Woman's Center announces 2014 "Woman of Achievement" and "Student Leader" awardees

Indira Rajagopal
BB Senior Instructor Indira Rajagopal, along with Graduate School Dean Brenda McComb and Chemistry Senior Instructor Margie Haak, were recognized as this year's "Woman of Achievement" awardees.

Deepthika Enamuri
BB undergraduates Deepthika Enamuri and Lubna Khan, along with students Alejandra Sanchez, Kristina Schnell, Stephanie Grocke and Jennifer Lam, were this year's "Student Leader" awardees.

More information about the awardees is available at:
http://oregonstate.edu/dept/ncs/lifeatosu/2014/osu-womens-center-awards-takes-place-may-19/
Dr. Beckman and Jared Williams featured in KEZI news for Lou Gehrig's research.

"Researchers at Oregon State University have helped discover a potential therapy for people suffering from Lou Gehrig's disease."
"...researchers say the discovery is exciting, and they hope the therapy could also help those with Parkinson's Disease."
While current research has only worked with mice and rats, this compound is promising and both easy and inexpensive to make. Next steps include formulating a drug for humans and focusing on safety.
Read the article and watch the video here.
OSU Commencement speaker and BB alum Dr. Ann Kiesling gives scientific seminar on human embryonic stem cells
"Considered a leader in both reproductive biology and stem cell research, Ann Kiessling earned her doctorate from Oregon State University in biochemistry and biophysics in 1971. Now, she is founder, director and researcher at the Bedford Stem Cell Research Foundation in Bedford, Mass.
Kiessling's interest in reproductive biology led to the creation of the first laboratory for in vitro human fertilization in Oregon in the early 1980s." Read more about Dr. Ann Kiesling here.
Watch the seminar here: https://www.youtube.com/watch?v=vBNsyKlBpg0
BB students golden at University Awards night
"BB students did superbly in last night's University Awards. I don't believe any other major had more award recipients than BB." (Kevin Ahern)
Robert MacVicar Exceptional Service Award - Deepthi Ennamuri
Kate Jameson Award - Omar Rachdi
Grace Wu Memorial - Lubna Khan
Benjamin A Gilman Intl. Scholarship - Julia Jones
Waldo Cummings Honorable Mention (Junior) - Jacob Huegel
Waldo Cummings Senior - Deepthi Ennamuri, Oresta Tolmach, Justin Zhang
Barry Goldwater Honorable Mention - Emily Cade
Fulbright Scholarship Finalist - Annika Swanson
Drucilla Shepard (Sophomore) - Jordyn Clarke
Drucilla Shepard (Junior) - Natasha Smith
Drucilla Shepard (Junior) - Arianna Kahler-Quesada
Drucilla Shepard (Junior) - Tanner Grenz
Drucilla Shepard (Junior) - Brian Josephson
Presidential Scholar (graduating) - Oresta Tolmach
Drucilla Shepard (Junior) - Brian Josephson
Women of Achievement - Deepthi Ennamuri and Lubna Khan
Emily Cade receives honorable mention in the Goldwater Scholarship Competition

Emily Cade of Julie Greenwood's lab was recently recognized with an hononorable mention in the Goldwater Scholarship competition. This year OSU had two students who received honorable mention. This included Emily Cade from the Biochemistry and Biophysics department and Johnathon Van Why from the Mathematics department.
The Barry Goldwater Scholarship and Excellence in Education Program was established by Congress in 1986 to honor Senator Barry Goldwater, who served his country for 56 years as a soldier and statesman, including 30 years of service in the U.S. Senate.
The purpose of the Foundation is to provide a continuing source of highly qualified scientists, mathematicians and engineers by awarding scholarships to college students who intend to pursue research careers in these fields.

Freitag Lab members win awards at Neurospora 2014 conference
Jon Galazka won the 2014 Perkins Award as most outstanding post-doctoral researcher at the recent international Neurospora 2014 conference held at Asilomar, CA.
Jon presented three posters and one talk, all dedicated to his work on Neurospora centromeres and gene silencing.
His talk was on adapting "HiC", a version of chromosome conformation capture, for Neurospora and testing the influence of heterochromatin mutants on three-dimensional chromosome interactions.
Jon in front of his HiC poster.

Beadle and Tatum Award bestowed on Professsor Michael Freitag
At the same meeting Michael Freitag received the Beadle and Tatum Award, which is handed out every other year "in recognition of outstanding and original research using Neurospora as a model organism".
The prize comes with reproductions of lantern slides prepared by George Beadle for the first talk on isolating mutants defective in the expression of genes required for metabolism in 1941, the beginning of "Biochemical Genetics". Visit Michael's office for a closer look.

(Left) Lantern slides by George Beadle



















Biochemistry Free and Easy and other online textbooks land Ahern and Rajagopal the Outreach & Engagement Vice Provost Award for Excellence - Innovation Award for Open Educational Resources


Congratulations are in order for BB Professors Kevin Ahern and Indira Rajagopal. Ahern and Rajagopal have been selected to receive the Outreach & Engagement Vice Provost Award for Excellence - Innovation Award for Open Educational Resources for their "Biochemistry Free and Easy" and other online textbooks.
The Vice Provost Awards for Excellence recognize outstanding contributions by faculty and staff that significantly advance the mission of outreach and engagement. Award winners will be recognized for their outstanding work and presented with a plaque and a team award of $1,000 at the O&E Awards for Excellence Luncheon, Wednesday, April 16, 12 – 2pm, at the CH2M Hill Alumni Center.

The MRF Discovery Award recognizes contributions of P. Andrew Karplus, Ph.D. to biomedical research

The MRF Discovery Award recognized P. Andrew Karplus, Ph.D., whose contributions to biomedical research include landmark discoveries about the structure-function relationship of a diverse array of proteins, many of which are important to the understanding of problems in human health and agriculture.
Guided by the view that we can better understand what we can see, Dr. Karplus has focused his career on determining the three-dimensional structures of proteins, which he then weaves together with chemical and evolutionary considerations to determine how proteins carry out their functions.
He has made a number of seminal contributions to his field. A landmark discovery was the 2003 "floodgate signaling" hypothesis he developed with Leslie Poole, Ph.D., that certain peroxide-degrading enzymes known as peroxiredoxins serve as switches that control cell signaling. This hypothesis has strongly influenced research on aging, cancer and obesity-related diseases.
Dr. Karplus was Assistant and then Associate Professor of Biochemistry, Molecular and Cellular Biology at Cornell University. He was a visiting professor at Oregon State University in the mid 1990s before joining the faculty full-time as an Associate Professor and then Professor of Biochemistry and Biophysics. He served as department chair from 2007-2010.
Kevin Ahern is inducted into the Oregon State University Libraries Open Access Hall of Fame

Dr. Kevin Ahern holds a Ph.D. in Biochemistry and Biophysics from Oregon State University and is currently the Director for Undergraduate Research and a Senior Instructor in the Department of Biochemistry and Biophysics.
Kevin's immensely popular Biochemistry courses are well known at OSU and his students clearly benefit from his passion for and dedication to – the subject. It's not only OSU students, though, who are benefitting from his passion and dedication.
Kevin recorded his lectures along with his more than 100 biochemistry-related songs set to popular music and made them openly available to the World through his own YouTube channel.
In addition, he co-authored, with Indira Rajagopal, the textbook, "Biochemistry Free and Easy," which he also made Open Access. The open textbook now has more than fifty thousand downloads and the videos are closing in on the two million views mark.
We're thrilled Dr. Ahern agreed to also make this work Open Access via the OSU Libraries and Press digital repository, Scholars Archive@OSU.







Justin Biel's work could force molecular biologists to rethink basics of protein structure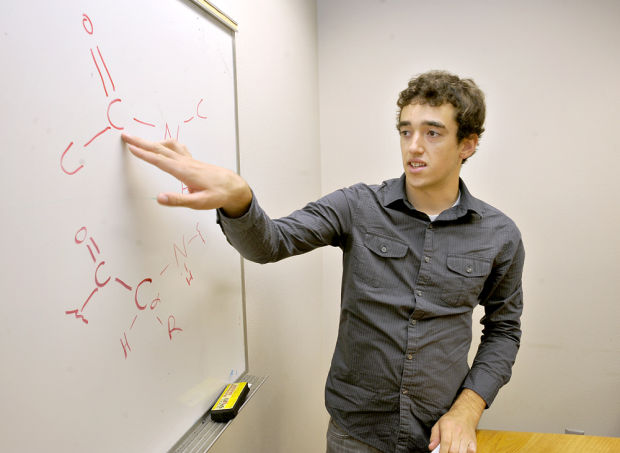 Linus Pauling won the 1954 Nobel Prize in chemistry for his description of the chemical bond that holds protein molecules together. Now an undergraduate researcher at Oregon State University where Pauling did his own undergrad work, is prompting scientists to take a hard look at that model. Pauling described the connection between protein building blocks, known as the peptide bond, as an arrangement of six atoms that essentially are all on the same plane. It was ground breaking insight that helped launch the field of molecular biology and has shaped scientific understanding of protein structure for the past six decades.
But Justin Biel, working with professor Andy Karplus, analyzed information from a databank of protein structures and found a large number of proteins that deviated from Pauling's planar model. (Read more)
Justin Biel is OSU's first Undergraduate Researcher of the Year

The Office of Undergraduate Research announced that Justin Biel is OSU's first Undergraduate Researcher of the Year. A senior honors student in biochemistry/biophysics, Biel has done research at OSU with Dr. Andy Karplus and Dr. Elisar Barbar. He participated in the HHMI Summer undergraduate research program and plans a research career in biophysics. He will attend UCSF in pursuit of his Ph.D. beginning this fall.
Earlier this year Biel was awarded the title of "Best Undergraduate Talk," at the West Coast Protein Crystallography Workshop XXI 2013, which was held in Monterey, California on March 17-20, 2013.
His talk, "Bent out of Shape: All Prolyl Peptides Deviate from Planarity," was the only one given by an undergraduate at the meeting. The workshop leaders were so impressed they created the award for him.

BB Students tie for first place in the poster competition Celebrating Undergraduate Excellence (CUE)
The Office of Undergraduate Research announced recently the winners of the poster competition for the Celebrating Undergraduate Excellence (CUE) event. In the College of Science, the winners were Ms Ana Brar and Mr. Justin Biel who tied for first place. Ana is a senior working with Dr. John Hays and Justin is a senior working with Dr. Andy Karplus. Honorable mention for the college award was given to Ms Qiuying Liu, a senior working with Dr. Jeffrey Greenwood.


Anantnoor (Ana) Brar wins the Robert MacVicar, the Clara H.Waldo and the E.A. Cummings award (Seniors)
Ana, a senior in Biochemistry and Biophysics, is a member of the University Honors College. An outstanding student, Ana has carried out undergraduate research in the laboratory of Dr. John Hays since early in her freshman year. She won the top presenter award at OSU's Celebrating Undergraduate Excellence event in 2012. At the national level, Ana has won the prestigious McKnight Prize, for outstanding undergraduate researchers in biological chemistry.

In addition to her academic accomplishments, Ana has an exceptional record of service to OSU. She has been active in the Honors Activities and Advisory Council of the UHC and in the UHC Council. Ana serves as Vice President for Service in the Mortar Board Senior Honor Society at OSU, and is a member of the Board of Directors for the OSU Alumni Association. She is also an Ambassador for the College of Science.


Deepthika Ennamuri wins the Clara H.Waldo and E.A. Cummings Award (Juniors)
Deepthika is a junior majoring in Biochemistry and Biophysics, with minors in Chemistry and Psychology. An Honors student with an excellent academic record, Deepthika's achievements are not limited to the classroom. Early in her college career, Deepthika carried out a bioinformatics project on the reannotation of Phytophthora genomes. She subsequently moved on to do research on the neuroprotective effects of vitamin E and its role in recovery from spinal cord injuries. She serves as an ambassador for both the College of Science and for the Undergraduate Research, Scholarship and the Arts program. She is an INTO Conversant Program Volunteer and an International Classroom Teaching Assistant. Deepthika has also, for the past two years, served as the lead editor for the undergraduate research journal, The Catalyst. This year, she is President of the OSU chapter of the Mortar Board Senior Honor Society. She also serves as vice president of Phi Kappa Phi, and of the Biochemistry undergraduate club.


Maria Nguyen wins the OSU Women's Center Undergraduate Woman of the Year Award for 2013
Maria Nguyen is a senior in Biochemistry and Biophysics. She has been continuously involved in research since her first term in college. At the end of her sophomore year, she won a competitive national award, the HHMI EXROP fellowship, that took her to the University of California at San Diego for the summer. Her work there was so impressive that she was given the fellowship for an unprecedented second time. Maria's research has earned her co-authorship on a paper submitted to Nature Medicine. She will also be an author on a second publication, currently in preparation. Maria has been actively involved in the Biochemistry undergraduate club and Sigma Delta Omega, a science sorority, and serves as an Ambassador for both the College of Science and the Undergraduate Research, Scholarship and the Arts program. She was also the 2012 President of the Mortar Board Senior Honor Society.
Biochemistry & Biophysics students recognized by the Barry M. Goldwater Scholarship Committee
Three Biochemistry and Biophysics students were recently recognized by the Barry M. Goldwater Scholarship Committee of the federal government. Justin Zhang (left), a junior from Oregon and Helen Hobbs (center), a junior from Montana were given scholarships. James Rekow, a sophomore from Oregon was given an Honorable Mention award.


Arden Perkins wins challenging "3-minute thesis," contest
Oregon State University graduate students university-wide were invited to present and compete in a challenging "3-minute thesis" contest. Students near the completion of their program explained the impact and significance of their work to a non-expert audience. The presenters were only allowed three minutes, and a single static power-point slide without the use of animations, recordings, or props. Participants were judged on communication style, clarity and structure, inspiration and impact. Among the many excellent presentations, Arden Perkins, a second year Biochemistry and Biophysics PhD student in the Dr. Andy Karplus Lab, was chosen as one of the top talks and awarded a $250 cash prize for his presentation, "The Machines of Life." In his talk, Arden focused on the importance of the study of protein structure, the technique of protein crystallography, and how he used this knowledge to propose a novel drug lead.
read more
Perkin's Insight Presentation
Other Scholars' Insight Presentations


Lanelle Connolly wins the 2013 College of Science Outstanding Faculty Research Assistant Award


Lanelle Connolly was recently honored with the 2013 College of Science Outstanding Faculty Research Assistant Award. The purpose of this award is to recognize outstanding job performance and contributions by those in the College who have chosen a career as a Faculty Research Assistant or Associate. The criteria used by the selection committee include exceptional job performance innovativeness in work, scholarly publications, and evidence of continued professional growth.

Lanelle was honored for her exemplary work in research and for her role as an outstanding ambassador for the University. In particular, Lanelle has pioneered work with a new organism in the lab, the fungus Fusarium graminearum, which serves as a model for human stem cell or cancer biology. Because of her work, the Freitag lab can now use this genetic system to aid mechanistic work in human cells.
Professor Joe Beckman talks about his efforts, processes in studying ALS at Oregon State


Amyotrophic Lateral Sclerosis (ALS), often referred to as Lou Gehrig's disease, affects motor neuron cells in the spinal cord.
At Oregon State University's Environmental Health Sciences Center, ALS is an item of interest for student and faculty researchers.
"It's a progressive, paralytic disease," said 2013 Distinguished Professor Joe Beckman.
Beckman talked about the importance of research yesterday in his lecture: "Why study ALS at OSU?"
"Imagine six months from now I'm in a wheelchair and I can only blink with one eye and I now weigh 90 pounds with my shoulder dislocated because I won't have enough muscle mass left," Beckman said.
Motor neurons start to die at a very rapid rate, gradually weakening muscles and causing individuals to lose control of voluntary muscle movements.
The progressive degeneration of motor neurons eventually leads to death, according to the ALS Association.
Around 3,000 new cases of ALS are diagnosed every year in the United States. (read more)




Oregon State names distinguished professors for 2013 (Lecture)

Dr. Joe Beckman is a professor in the Biochemistry and Biophysics department as well as the Ava Helen Pauling Chair in the Linus Pauling Institute. Oregon State University has honored him by naming him a Distinguished Professor along with College of Engineering, Thomas Dietterich. (read more)


The University Honors College Eminent Professor Award is now part of Rajagopal's collection of teaching awards


Indira Rajagopal first discovered her passion for teaching and education as a postdoctoral student. Though she intended to dedicate much of her time to research, she found teaching to be rewarding and full of satisfaction."There's something about explaining a subject that you love to somebody, and then they get it and get excited about it," Rajagopal said. "And then, when you see that returning spark in someone's eyes, you see that people realize: 'This is an amazing subject.'" For Rajagopal, the importance of education comes from students being able to see the bigger picture and applying what they learn to what is going on in the world. If students can use the knowledge and skills they learn in school, then they can navigate the world, find something meaningful and figure out how to place random information into context.
The University Honors College Eminent Professor award is now part of Rajagopal's collection of teaching awards. Rajagopal has been awarded the Carter award, the University Honors College Professor of the Year award and the OSU Beaver Champion award. (read more)



OSU science professor teaches in song, limerick
On Tuesday afternoons in a small upstairs classroom, Kevin Ahern blows the stiff-collared stereotype of science academia to bits. Ahern, a biochemistry instructor and director of undergraduate research at Oregon State University, doesn't consider it disruptive to break out in song during class. On the contrary, the songs become the subject matter on Tuesdays, when he teaches the class "Sing a Song of Science" to a dozen honors students. "Music brings back memories," he tells the group of future veterinarians, philosophers and doctors before pressing play on a recording of the Alphabet Song. All the students smile in recognition.
When he began his career teaching a biochemistry class with hundreds of students, Ahern noticed the subject matter intimidated many of them. He began rewriting the lyrics of popular songs to deal with his class materials, hoping the songs would help students retain lessons. If nothing else, he thought the songs would lighten the mood for his nervous students. Nearly two decades later, he has written hundreds. (read more)

Professor Joe Beckman wins 2012 Discovery Award from the Medical Research Foundation of Oregon
The MRF Discovery Award recognized Joseph S.Beckman,Ph.D.,a biochemist whose research has led to new understanding about the role of oxidative stress in Lou Gehrig's disease, also known as amyotrophic lateral sclerosis (ALS).

Dr.Beckman investigates how peroxynitrite,a powerful oxidant formed from nitric oxide and superoxide, is involved in neurodegeneration.

His lab's long-range goal is to understand how superoxide dismutase causes ALS and to identify drugs and dietary compounds with the potential to treat the disease.(read more)
(Left) Joe Beckman with wife Tanya at the Discovery Award ceremony in Portland

BB 4th year graduate students host oncologist and cancer researcher Brian Druker, the developer of Gleevec, as the 2012 Tsoo King Memorial Lecturer.

BB Graduate students Chuan Li, Jun Ding, Yan Campbell, Jessica Morgan, and Jared Williams stand with Dr. Druker after his public lecture entitled "The End of Cancer Is Within Reach".
Annual Biochemistry and Biophysics hike takes staff, family and friends to Little Belnap Crater
Last summer Dale Tronrud, a postdoc in the Karplus Lab, suggested Little Belnap Crater for the Biochemistry and Biophysics Department's annual hike.

A group of about twenty faculty members, postdocs, grads, friends and family drove to the trailhead near the McKensie Pass and hiked about two miles across the lava beds to the top of Little Belnap. They had lunch on top and took in the spectacular views.

On the way home, they stopped at Gary Merrill's favorite swimming spot High Rock where many of them cooled off by jumping off rocks into the chilly South Santiam River.








Andy Karplus wins 2012 Gilfillan Award for Distinguished Scholarship in Science.

Congratulations to Dr. Andy Karplus who has won the 2012 F.A. Gilfillan Memorial Award for Distinguished Scholarship in Science. The criteria used by the College of Science selection committee is scholarship and scientific accomplishment over a substantial period of time and significant impact on his or her field. Andy joins the ranks of three other BB faculty (Ken Van Holde, Chris Mathews and Joe Beckman) who have won this most prestigious award bestowed by the College of Science.




We are pleased to provide access to two free online books and three free online courses by Dr. Kevin Ahern and Dr. Indira Rajagopal.

1. Biochemistry Free & Easy Kevin and Indira's popular electronic book aimed at helping students learn the basics of biochemistry in a fun and engaging format is now in version 3.0. The book incorporates original songs, recordings, verses and links to over 100 video lectures. The full-featured version can be viewed only on an iPad or Macintosh with iBooks 2 or later. The PDF version can be viewed on any computer or system capable of reading PDF files.

Download iPad version HERE or PDF version HERE
The iPad version is only available in the U.S., Canada, England, and Australia.
2. Kevin and Indira's Guide to Getting Into Medical School
In this book, Kevin and Indira share the advice they have given over the years that has resulted in an extraordinary acceptance rate for their students getting into medical schools. Aimed at university students, the book takes students all the way through the process, from the earliest beginnings to acceptance. Extensive space is devoted to important topics such as personal statements, MMIs and how to ace the interview.
Download iPad version HERE or PDF version HERE.
Three FREE online courses through Apple's iTunes U based on these books are available below. Anyone can enroll in by clicking on the URLs below from an iPhone or an iPad.
1. Biochemistry for Pre-Meds – HERE
2. Elementary Biochemistry – HERE
3. Pre-Med Primer – Getting Into Medical School: Advice From Kevin and Indira – HERE

Help support the efforts behind these books and development of new ones by making a donation to support Oregon State University's Department of Biochemistry & Biophysics; no donation is too small! Please designate the Dept of Biochemistry & Biophysics and note it is in appreciation of our book. Thank you! Kevin and Indira. Link to Kevin's Workshops on 1) interviewing; 2) undergraduate research; and 3) strategies for professional schools HERE
Andy Karplus and Kay Diederich's article describing a "waste not, want not" way of improving protein structure determination appears in the May 25th issue of Science
Andy describes the work as a "new assessment strategy for X-ray diffraction data that shows that current standards force people to throw away useful data (because they think they are too noisy), and that keeping these additional data will allow every crystal structure to be about 10% more accurate". The work was begun during Andy's sabbatical with Kay Diederich at the University of Konstanz last year.
The Science article, entitled " Linking crystallographic model and data quality", is accompanied by a Perspective by Phil Evans, entitled "Resolving some old problems in protein crystallography". Protein crystallographer Dale Tronrud comments that the new method has the "potential to alter the routine practice of crystallographers around the world and has applications to many fields beyond crystallography". For more about the Science article, see Nick Houtman's "X-ray Vision" piece in OSU's Terra.
Congratulations Andy on "revealing how life works".
BB Undergraduate Annika Swanson Awarded 2012 Goldwater Scholarship
Annika Swanson is one of two OSU students to be recognized with a 2012 Barry M. Goldwater Scholarship. This is a merit-based national scholarship from the U.S. government for undergraduate students in pursuit of careers in mathematics, the natural sciences, or engineering. Annika is the 8th OSU Biochemistry and Biophysics student to receive this prestigious award. Read More

Five BB Undergraduates Win Summer 2012 URISC Awards

The Research Office has announced the awards for the Undergraduate Research, Innovation, Scholarship and Creativity (URISC) Summer 2012 solicitation. Of 51 submitted proposals, 13 were funded, and of these, 5 were awarded to BB students. For BB awardees, the $1800 URISC award will be matched by a $2200 Francis Cripps Undergraduate Research Experience (CURE) award. The combined support will allow the students to pursue their research interests full time in an OSU laboratory throughout the summer. Read More about the five proposals selected for funding that were submitted by BB undergraduates.
Kyle Pomraning, a graduate student in Michael Freitag's lab, wins DeLill Nasser Award for Professional Development in Genetics.
Administered by the Genetics Society of America, the DeLill Nasser Awards are given twice a year to promising post-docs and graduate students to attend national or international meetings. Aided by the $1,000 cash award, Kyle attended the 11th European Conference on Fungal Genetics ("ECFG11") in Marburg, Germany, in April 2012. He gave two talks, one (entitled "A dynamin-like protein affects both RIP and recombination") in the session on "Genome Structure", and one (entitled "Tracking homologous recombination by whole genome analysis") at the Neurospora Satellite Meeting. This conference allowed him to meet some of his many European collaborators (from Germany, France and Austria) for the first time. It was also the first time that Kyle has traveled to Europe. Here he is shown after a spin on one of the original German mountain bikes, perhaps designed by Baron Drais himself. Read More
* BB Club Undergraduates team up with BB Faculty for Whitewater Odyssey on Oregon's Clackamas River

Work hard/play hard. To get to know their teachers better and vice versa, eight BB undergraduates (Kyle Ireton, Annika Swanson, Boya Fang, Michael Power, Alec Peters, Andres Alvarez, Jonathan Gallion, Gavin McHale, Tiffany Soto, and Tiffany Kornberg) joined three BB faculty members (Gary Merrill, Joe Beckman, and Ryan Mehl) for a whitewater trip down the Clackamas River with "Blue Sky Rafting". More photos soon.
* Nine BB Undergraduates Win Winter 2011 URISC Fellowships click here
* BB majors enjoy Fall trip to the Oregon coast.